My Liberty Sweetheart Block of the Month
I stumbled across the design for this quilt in a beautiful book called Massachusetts Quilts: Our Common Wealth by Lynne Bassett. The photographed version in the book is part of a private collection, but the sweetheart block, as far as I could discover, was published in a magazine in the mid 20th Century.
A simple and beautiful pattern, I had to replicate it, blanket stitch and all, and turn it into a Block of the Month Program!
This quilt is made exclusively with Liberty Tana Lawn™ and shot cottons, on a plain 100% cotton background.
Techniques include appliqué and the embroidery stitch blanket stitch.
Finished quilt size: 68" x 68" (172cm x 172cm)
This is an always on program, which means you can join whenever you like!
The quilt includes 64 blocks: For the first 8 months you will receive materials for 5 blocks, and for the last 4 months you will receive materials for 6 blocks.
You will receive the acrylic templates and pattern in the first month of subscription. Remember to keep your pattern and temples for the whole program.
You'll also get access to our brand new Queen of Fabric Block of the Month Facebook Group! This will be a group of our lovely BOM subscribers and a place where you can share photos and stories of your QoF BOM journeys and ask questions.
Your card will be charged for the first month + postage when you sign up and recurringly at the beginning of the month for 11 months after that.
£22 a month + postage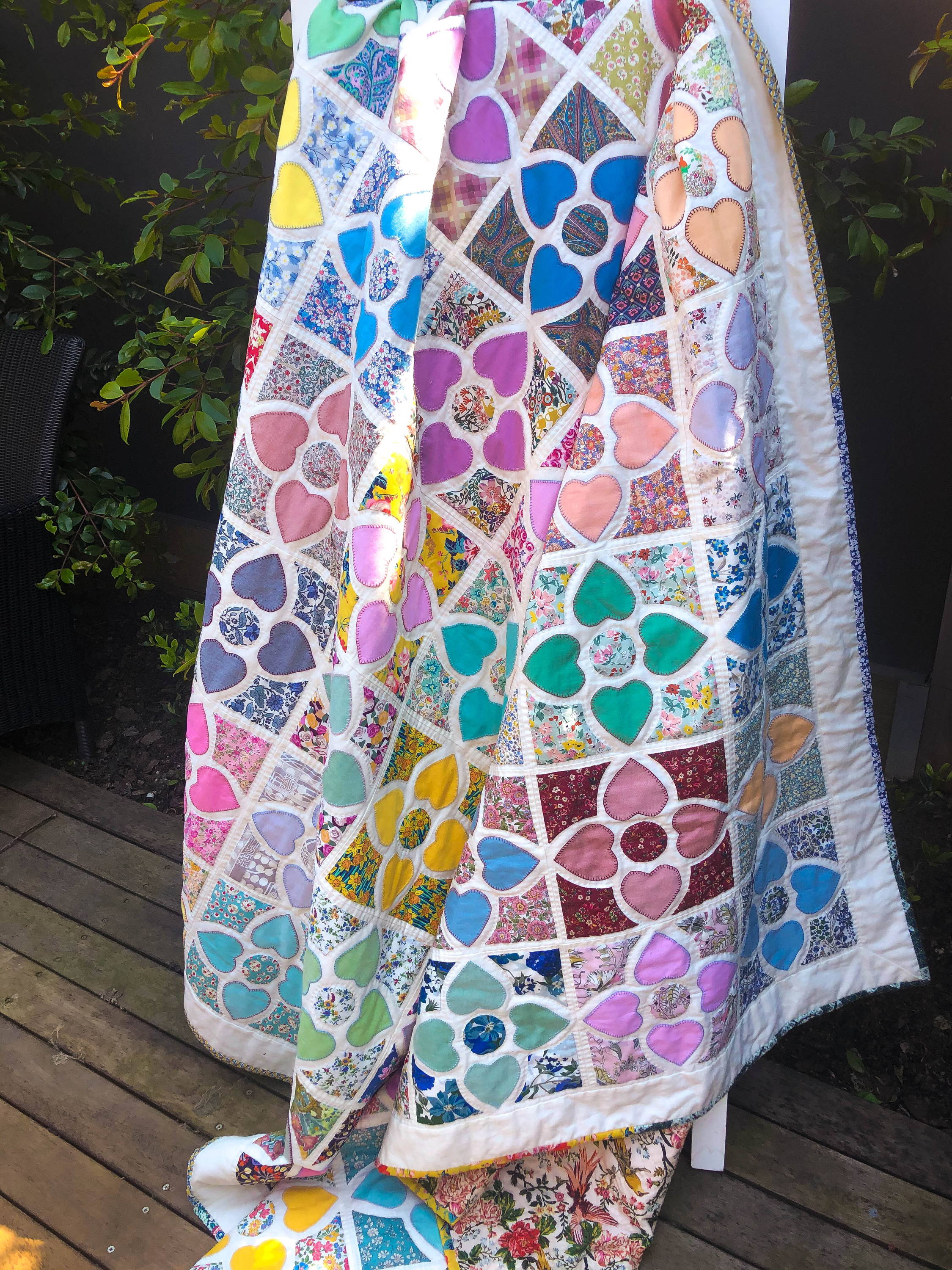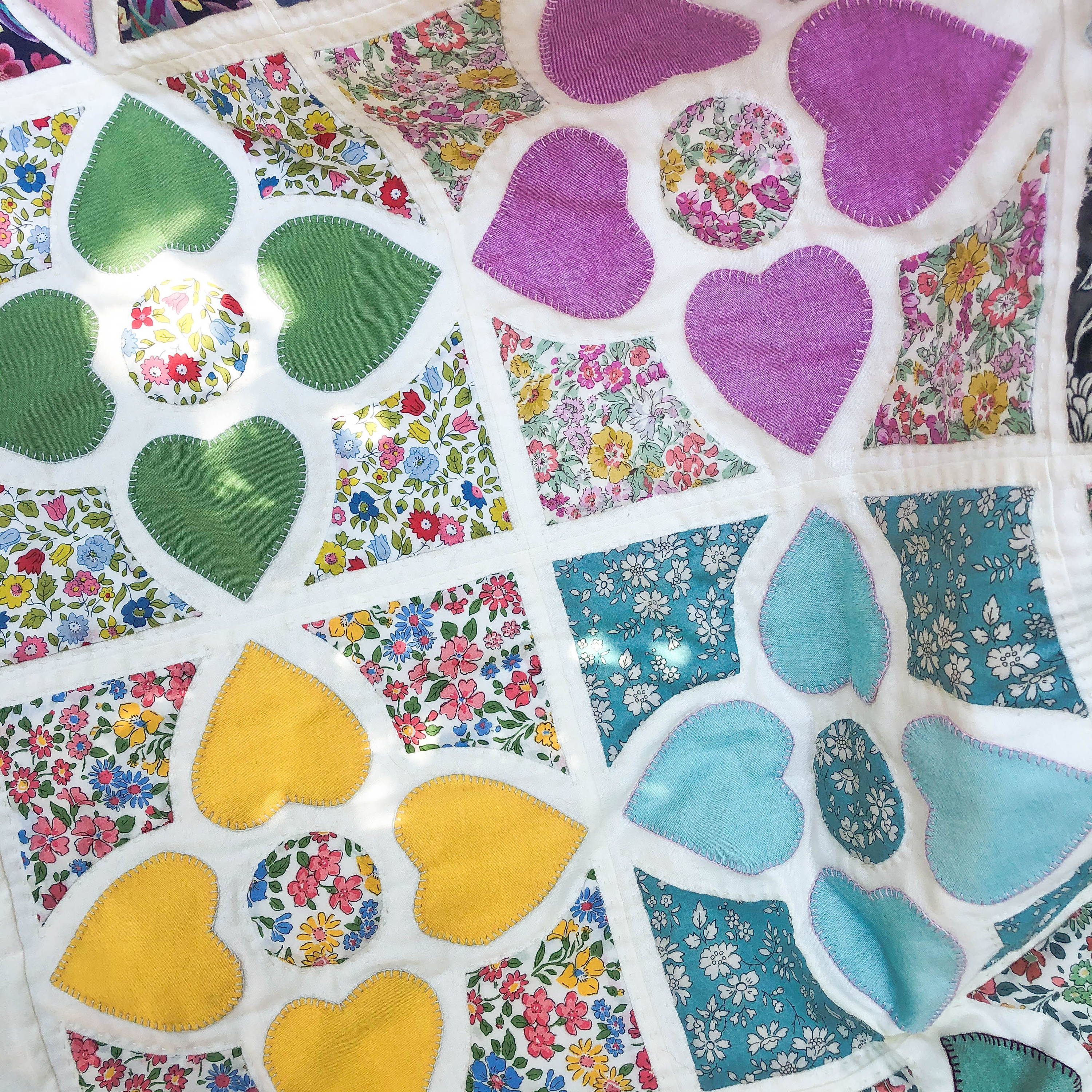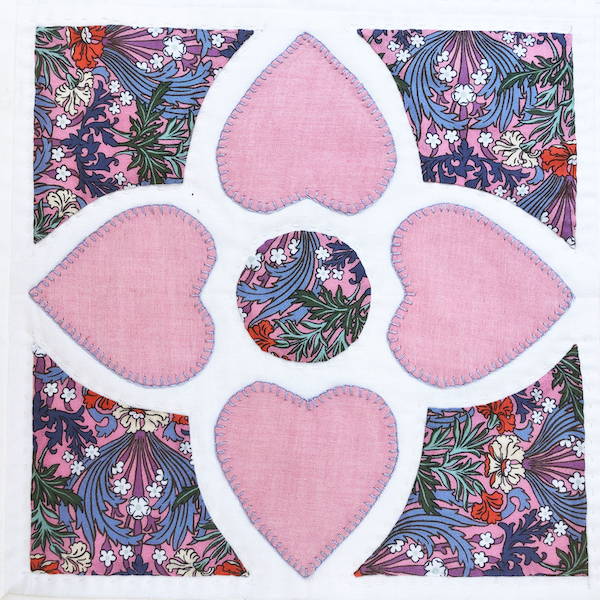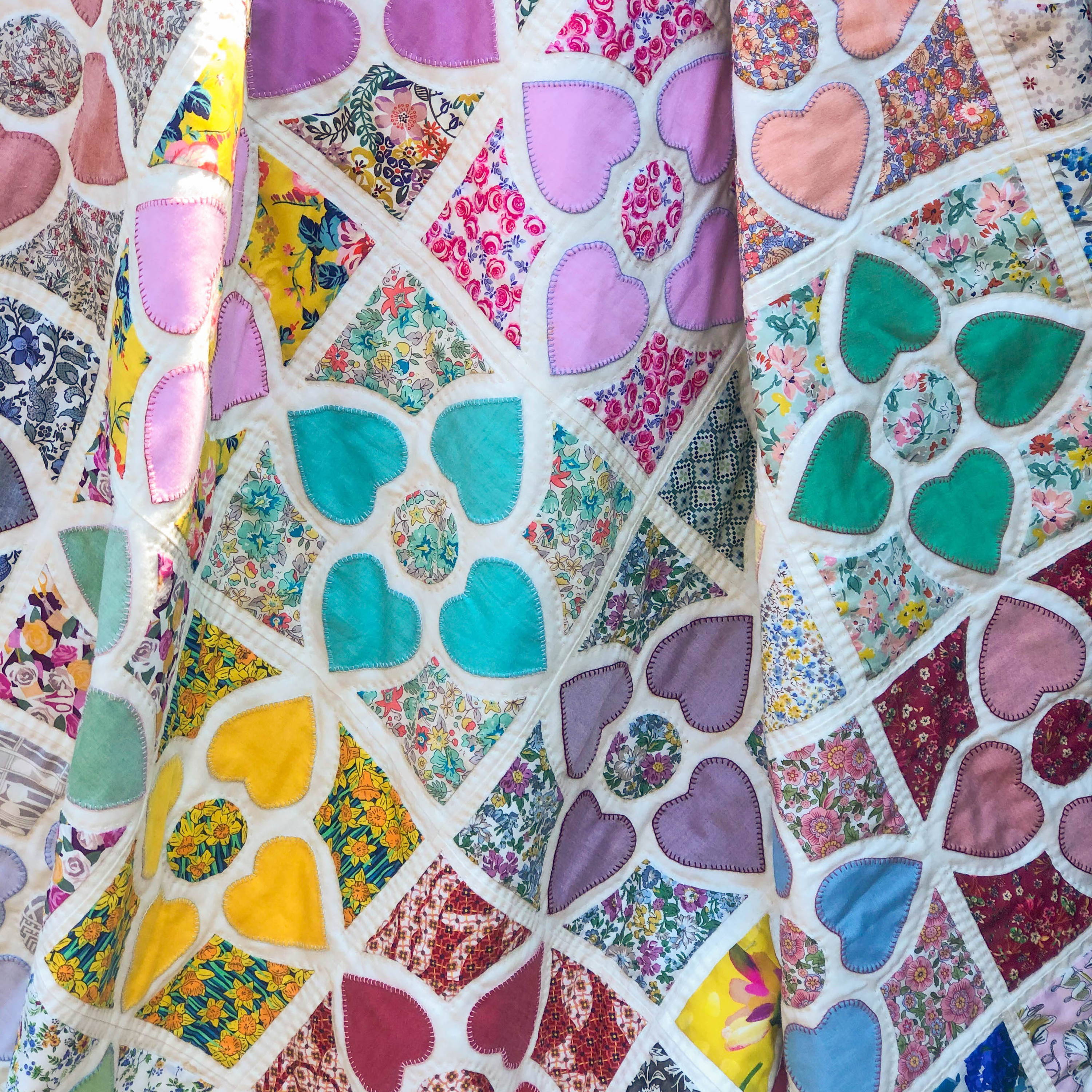 The history of the Sweetheart Block
I came across this beautiful design in Massachusettes Quilts by Lynne Bassett (pictured below). I was so taken by the design, I knew I had to make my own. And even better, I thought it would make the perfect block of the month program, combining the beautiful skills of appliqué and embroidery in a single design.
I e-mailed the New England Quilt Museum, to get more information about the history of the quilt and to seek permission to re-publish the design.
We found that the Sweetheart block was originally by Capper's Weekly and printed as The Friendship Quilt by the Kansas City Star in 1938. It was then re-published in 1951 as 'A heart for Appliqué'.
The idea behind the quilt design seems to have stemmed from the 19th-century tile quilt technique. This is a rare technique where fabric is sewn to a white background and the background shows through much like grout on a tile; hence the name Tile Quilts.
I loved discovering the history of this beautiful design and hope you enjoy making your very own in Liberty Tana Lawn and shot cottons.